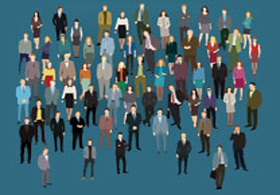 Consistency, integration and segmentation are keys to unified marketing and communications programs. Overcoming internal barriers to bring competing interests together is needed for a holistic strategy. Let me show you how.
MJ Hudak Consultants strives to integrate multiple disciplines and capabilities into a cohesive program to create a consistent voice and visual attraction across the organization to market and communicate a product or service.
It starts with solid research and ensuring the right resources and tools are in place to execute a program or campaign. We look at your customer journey to ensure that marketing and communications does not operate in a silo, and all customer touch points are in sync.
It begins with a strategic plan based on business goals and careful execution of the plan to meet objectives.
Larger organizations may lack consistency in brand and message because of silos.
 A small business just needs the right mix to jump-start its marketing.
Large or small or somewhere in between, MJ Hudak Consultants puts together the right plan based on good intelligence, using the right mix of channels for each target audience.
INDUSTRY EXPERIENCE
We have worked with clients in many industries, mostly for publicly- and privately-held companies, as well as not-for-profit organizations such as trade associations and social service agencies.
Technology
Associations
Entertainment
Regulated Utilities
Transportation
Not-for-Profits
SERVICES
A full-range of marketing and communications services are offered, starting with research for understanding the current situation. These findings are used to develop a strategic plan that provides a roadmap of where you want your organization to go. Detailed plans outline measurable objectives and specific tactics for how you will execute plans and measure the results.
Strategic Planning
Tactical Plans
Research
Branding
Campaign Management
Content Development
Message Mapping
Event Marketing
Public Relations
Employee Communications